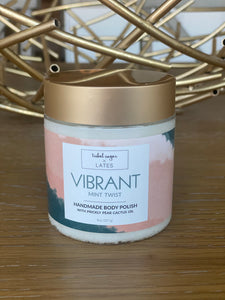 BODY POLISH | Vibrant Mint Twist
Regular price $20.00 $15.00 Sale
We believe in the power of a hot shower, glowing skin,
and a positive attitude.


Tribal Sugar Body Polish harnesses the power of Prickly Pear Cactus Oil and positive words to transform your shower into a rejuvenating personal spa. A little dollop of our Body Polish will both hydrate your skin, and nourish your mood.


Start your morning with our VIBRANT vibe and
bring intention and positivity to your day.
Love The Skin You're In!


Directions: Apply a generous amount to wet skin and massage into skin to exfoliate and moisturize. Rinse off, towel dry. Avoid getting water into your scrub to preserve shelf-life. Coconut oil melts in high temperatures, please store between 65˚- 85˚. For best results use within 6-8 weeks after opening.


Ingredients: Pure cane sugar, coconut oil, sweet almond oil,
soybean oil, Prickly Pear Cactus Oil, fragrance, essential oil.